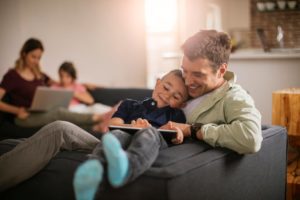 As confusing as life insurance may be, it is essential to know your loved ones are taken care of in case anything happens to you. The two life insurance policies you can choose from are term life insurance and whole life insurance. Both policies can provide the desired protection you want for your dependents, but it's extremely important to know the differences between the two.
Term life insurance is an affordable, easy option to protect your dependents in case you die prematurely. It offers complete coverage for a specific period of time. These periods are referred to as "terms," and can be bought in increments of 5, 10, 15 or even 30 years. Term life insurance gives individuals the coverage needed without it being a permanent, big expense. With term life insurance being temporary, affordable coverage, it can easily be converted into whole life insurance.
Whole life insurance is lifelong coverage that provides death benefits as well as a cash value accumulation that increases with the life of the policy. You are able to borrow money against the account or surrender your policy for cash. This type of life insurance is a great option for estate planning— especially if you want to provide money for your heirs to pay estate taxes. This policy has more expensive premiums than term life but can potentially save you money over the life of the policy. Oftentimes, you must qualify for whole life insurance with a medical exam. Whole life insurance policies take around 12-15 years to build up decent cash value.
When choosing between term life or whole life insurance, it is important to evaluate all variables in your life including your age, state of health, financial needs, mortgage and debts, intentions to start an estate or trust as part of your will and much more. Let our insurance professionals help you find the best life insurance policy that will provide a more secure future for you and your family. Click here for more details.