With summer coming to an end, the school year is right around the corner. It's the perfect time to support our community and help families who may be struggling to provide school supplies for their children. From July 27th to August 14th, we will be hosting our annual school supply drive to benefit the Beltsville Academy. Donations will be accepted at our office, located at 5000 Sunnyside Ave Suite 200, Beltsville, MD  20705, between 8:45am-5pm Monday through Friday. Below are the items that we will be collecting: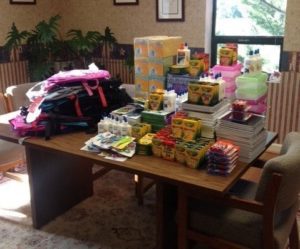 Book bag or back pack without wheels
Pencil bag/pencil box
2" three ring binder
Spiral notebooks (70 pages)
Two-pocket folders – orange, blue, green, red
Wide-ruled notebook paper
Composition books
Index cards
#2 pencils
Crayons (24 ct.)
Markers
Colored pencils
Scissors (blunt & pointed)
Glue sticks/bottles of glue
Highlighters
3X3 post-it notes
Tissues
Hand sanitizer
Surface cleaner wipes (ex. Clorox or Mr. Clean)
Paper towels
Sandwich, quart & gallon size bags
Liquid hand soap
Thank you all in advance, we can't wait to kickoff a great school year and make a difference for our students.