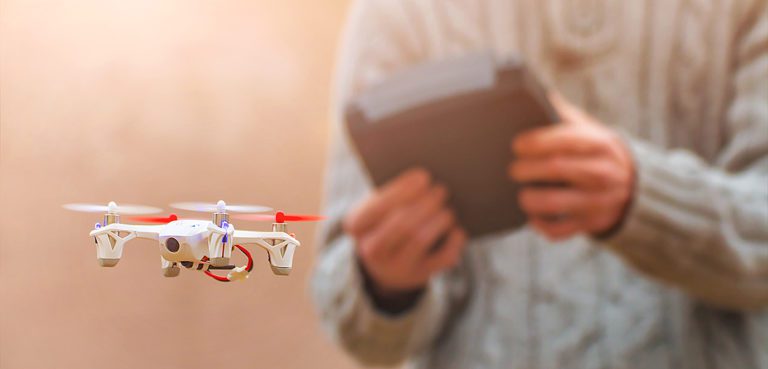 Drones – also known as unmanned aircraft systems, or UAS – are a red-hot holiday gift. In fact, the Consumer Technology Association reports that the number of small hobbyist drones will triple from 1.1 million units in 2016 to 3.5 million units by 2021. Planning on giving (or receiving) one this year? Here's what you need to know.
I GOT A DRONE FOR THE HOLIDAYS. IS IT COVERED UNDER MY HOMEOWNERS OR RENTERS POLICY?
If you're someone who owns a UAS, you may be wondering whether ERIE would cover yours in the event it got damaged or hurt someone or their property.
The good news is that ERIE does cover drones that are used for personal use under both our homeowners and renter's policies.
ERIE has historically covered model airplanes, and a UAS meets the definition of a model airplane. So coverage for drones would be provided under your ERIE homeowners insurance, renters insurance, and/or personal catastrophe liability (commonly known as umbrella insurance) policies.
Coverage, however, would not apply if you used your drone as part of your business operations – for example, taking photos in a photography business or inspecting a warehouse as a wholesaler-distributor. Other policy conditions or exclusions could also apply to limit or exclude coverage in specific circumstances.
DRONE SAFETY TIPS
If you're a new pilot, the Federal Aviation Administration offers these tips for safe flying:
Research state and local UAS restrictions before you fly.
Register your drone with the FAA. (The process differs for personal and business use.)
Fly at or below 400 feet.
Don't fly your drone outside your line of sight.
Know the "no drone zones" (like stadiums, military bases or emergency cleanup operations) as listed in the FAA Airspace Restrictions.
Be mindful of others' privacy, including homes or public places.
Avoid flying near other aircrafts or airports.
Never fly under the influence of drugs or alcohol.
If you have specific questions about your drone being covered, want to learn more about how your coverage works, or to get a quote for new coverage, contact us.  In the meantime, happy flying!
By: Erie Insurance