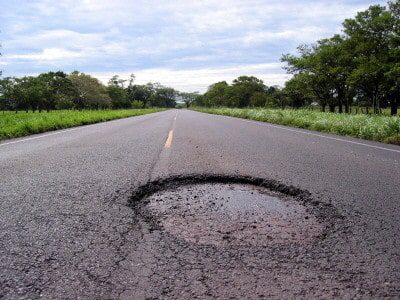 The cold winter season may be coming to an end, but the toll on our roads is here to stay… For now. Potholes are not only just a pain during your daily commute, but also can cause some serious damage to your car. Tire and wheel damage are the most common consequences and if you hit a pothole at a high speed, you can cause even more damage such as bent rims, suspension damage, steering damage and damage to the body of your car. Also, since drivers break often or swerve to avoid them, potholes are a leading cause of car accidents. Here's what you can do instead of swerving:
Ensure that you have proper tire inflation. If a tire is too soft, a sudden bump can cause your tire to pop. Over-inflated tires are also susceptible to damage caused by potholes.
Always be aware of traffic around you and look ahead at road conditions. If you spot a pothole, use your mirrors to consider whether you can go around it or go in between it.
Reduce your speed on roads that have potholes. Hitting the pothole slowly can help avoid damage.
If you can't avoid the pothole, keep your steering wheel straight, slow down and drive carefully through.
If you hit a pothole, be sure to monitor your vehicle. If you suspect you have a flat tire, pull off the road safely as soon as you can where you can change to a spare. If your tire rims are bent, this could cause major problems later while driving. If your car pulls to one side when you are driving, your wheels could be out of alignment.
Washington, D.C. has created an interactive map that alerts drivers to the dangers of potholes on the road. They have also set a standard to repair potholes within three business days of the time they're reported. Of course, don't forget to drive safely during pothole season.