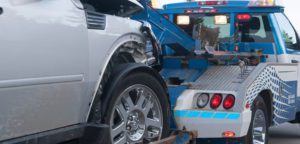 The first step in determining whether a car is totaled (or, in insurance terms, a total loss) is to calculate its actual cash value (ACV) at the time of the loss. The ACV is how much your vehicle is worth after factoring in depreciation. On average, vehicles depreciate more than 20 percent the first year and approximately 10 percent each additional year for the first five years according to Carfax data.
HOW IS TOTAL LOSS VALUE CALCULATED?
At Joseph W. McCartin Insurance, a claims adjuster assesses your vehicle's condition. Then, they run the make, model and year of your vehicle through an industry-leading vendor database.  The database generates an accurate estimate of your vehicle's market value based on its mileage, condition, options and other comparative factors. The database also considers the demand for a particular vehicle in your local market. For example, a pickup truck could fetch a higher price in a rural area than in a heavily populated city.
Another factor is the resale value of the parts and the metal. This factor, known as the "salvage value," is considered along with the cost of repair.
If a vehicle's cost of repair plus its salvage value exceeds the vehicle's ACV, it is typically declared a total loss. (One exception is certain state laws that require insurance companies to declare a vehicle a total loss even if the cost of repair and salvage value are less than the ACV.)
HOW MUCH DOES INSURANCE PAY FOR A TOTALED CAR?
If your vehicle is a total loss, you have two choices: You can take the cash settlement for the ACV of your vehicle or, if your state allows, you can "retain the salvage" and request the title and damaged vehicle be returned to you.
Most customers choose to take the settlement value, which is the figure generated by the industry-leading vehicle valuation database. Payment goes to the customer if the vehicle is owned outright. If there's a lienholder, such as a bank or a credit union, payment goes to that lienholder. (Anything left over after paying the lienholder, however, goes back to the customer.) All payments are made after subtracting the customer's deductible.
WHAT INSURANCE CAN HELP PAY FOR A TOTALED CAR?
The two most common are collision coverage and comprehensive coverage. If you have these optional coverages on your auto policy, you have protection up to the actual cash value amount if your vehicle is declared a total loss. Collision protects you if you hit another car or overturn. Comprehensive protects against events like fire, vandalism or hitting a deer.
WHAT HAPPENS WHEN YOUR CAR IS TOTALED AND YOU STILL OWE MONEY ON IT?
It's true: A new car depreciates the moment you drive it off the lot. Since the cash payout for a totaled car is based on actual cash value – not the amount you have left on your car loan – you could be in a tough spot if your car is totaled and you still owe money.
Good news: There's a way to protect your investment. Consider adding the New Auto Security Coverage Endorsement to your auto policy for a few extra dollars per month. If you have a lease or loan on your vehicle, the endorsement will help if you owe more on the vehicle than what it's worth. Talk to us about how this coverage works.
See what's different about Joseph W. McCartin Insurance and request a free quote online.
By Erie Insurance