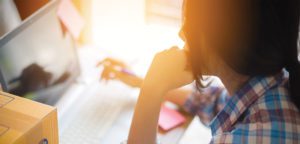 Home-based businesses are on the rise. According to research done by IncFile, a small business start-up firm based out of Houston, Texas, it's estimated that there are 38 million home-based businesses that generate $427 billion a year in the United States. Of those businesses, 20 percent of them bring in $100-500k per year.
Big or small, home-based businesses all share one common challenge: Setting up a space to get work done.
Not sure where to start? Then read on to get some tips to set up your home-based business office.
EQUIPMENT AND SUPPLIES
Set a budget and stick to it. Chances are you don't have an abundance of funds if you're just starting out. That's why it's important to create a budget and commit to it. Thrift stores, clearance aisles and yard sales are all great ways to score good buys if you're on a tight budget.
Think through technology. Do you need a new phone line? Consider a VoIP (Voice over Internet Protocol), which allows you to make voice calls over a broadband connection. You might need a faster internet connection to support it.
Keep your receipts and bills. Many items that you purchase and a percentage of your utility bills (including that high-speed internet) for your home-based office might be eligible to deduct from your taxes.
Think about the equipment you really need. If you're going to use a piece of equipment on a daily basis, buy it. For equipment you use less often, a trip to a copier or office supplies store may be more economical.
Stock up on supplies. Whether it's paper, pens, printer ink or boxes, make sure to have plenty of supplies on hand. Constantly having to buy one thing at a time cuts into your productivity — plus, you can usually pay less if you buy in bulk.
Invest in ergonomics. A properly set up work station helps lessen muscle fatigue, increases productivity and reduces the risk of work-related injuries (like carpel tunnel syndrome, tendinitis, or other muscle strains).
LOCATION AND LAYOUT
Determine what kind of space you'll need. Based on what kind of business you're running; you may need room for inventory or you may need extra room for files. For instance, if you're building your business as a wholesaler or reseller but don't have a warehouse yet, make sure you have a safe, dry and organized place to store your inventory. If you're launching a small restaurant or a contracting service like a plumbing business but doing the office work at home, you may need a file cabinet to help keep paperwork organized and easy to find.
Plan for doing business on the go. If you're often on the road providing quotes, consider a good brief case to keep a laptop, paperwork and any devices you need to take your business with you.
Consider noise level. Think about the noise levels both inside and outside your home for the working space you're considering. Traffic noise, the whirr of your neighbor's lawnmower, or a loud HVAC system can be a real distraction when you're trying to close business on a high-stakes call. To reduce distraction and add to privacy, consider a white noise machine.
Create a separation from the rest of your house. Having physical boundaries helps create mental boundaries when the temptation to work around the clock hits. If you don't have a separate room in your house, try to partition part of your home. Having a clock in clear view and set office hours will also help you establish a line between your personal and professional lives.
Personalize it. Small touches go a long way to make your office a space you'll actually want to work in. Plus, research has shown that certain colors, scents and even house plants can increase your productivity.
INSURANCE SOLUTIONS FOR HOME-BASED BUSINESSES
Many home-based business owners don't realize that their homeowners insurance does not protect their business in most cases. For that reason, it's best to check with us about the coverage you need.
Want to learn more about custom solutions for business insurance? Call us, we can tell you more about your coverage options and get you a free quote.
~ Written by: Erie Insurance