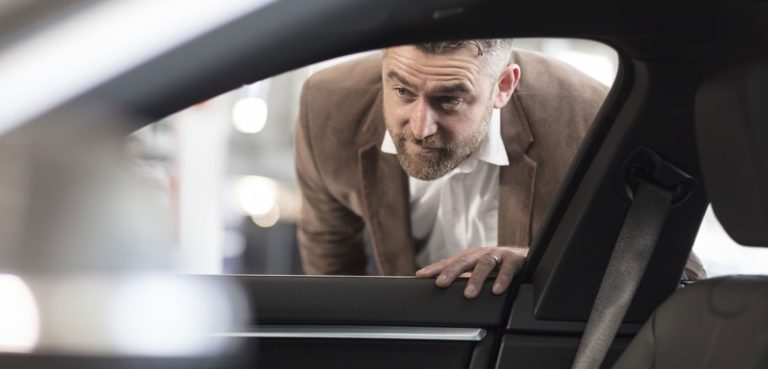 Ridesharing apps like Uber and Lyft are a popular and convenient way to get around town. For drivers, they're a good way to earn some extra cash, too.
To be a great driver, you need more than just a car and a good driving record. So, these days… what separates the best from the rest?
THINGS EVERY RIDESHARE DRIVER NEEDS TO KEEP IN THE CAR
First things first: Make sure your personal auto insurance policy can cover you if you're using your own car for business. (A local insurance pro like an Erie Insurance agent can help you understand how to customize your personal auto insurance if you drive for Uber or Lyft.)
Once you've checked off that essential – here's a list of extras to take your ride to the next level.
For your car:
Car emergency kit: Flares, a flashlight and basic tools are just a few items you might want to have on hand… just in case. Get the full list of what to include in a car emergency kit.
Disinfectant wipes: You never know what germs may creep into your vehicle. Consider wiping down your car after every few passengers to eliminate you and your riders' chances of catching a bug.
Microfiber cloths: Quickly wipe away dashboard dust and window prints before your next customers.
Floor mats: From dirt and snow to spills, your floors take a beating when you're a professional driver. Good mats can keep your car tidy while keeping the carpet free from stains. (Plus, they're easier to clean than scrubbing your carpets!)
Trash can: Make it easy for your passengers to throw away unwanted items.
Seat protectors: Keep stains away from your nice and neat interior seats.
Fabric protector: While seat protectors and floor mats will pick up most of the mess, fabric protector can make the clean-up a little easier.
Lint roller: If you allow pets in your vehicle, you may want a lint roller to pick up any leftover fur. Read more tips on how to keep pets safe in the car.
Air freshener: Keep everything smelling fresh, no matter what happens. (And you know anything can happen!)
Pressure gauge and tire inflator: Arriving late is not in your job description. While your tire pressure can drop for a variety of reasons, these can help you get back on the road quicker without wasting time hunting for a service station. (If you notice your tires continue to lose pressure, consider consulting a mechanic.)
Jumper cables: Random battery malfunctions happen, but a simple jump can get you back on the road. Learn how to jump-start a car.
Windshield cover: You probably have a snow brush handy, but a windshield cover can help you clear the snow and ice off your car a little faster so you can pick up your next customer sooner.
For your passengers:
Charging cables: Consider keeping a few different kinds of chargers handy – preferably a dock with multiple charging outlets so multiple passengers can power up before their next stop.
Auxiliary cord: Everyone has different music tastes. A 3- to 6-foot auxiliary cord that can reach the back seat will give your passengers the freedom to jam out to their favorite tunes.
Wi-Fi hotspot: If you're willing to spring for the expense, it's a luxury amenity for your passengers… especially on a longer ride.
First-aid kit: Even a simple one can help soothe everyday scrapes (or the dreaded paper cut).
Bottled water: It never hurts to have extra bottled water on hand, especially on a hot summer day. For bonus points, keep it chilled in a cooler.
Illuminated sign: Make it easy for your customers to find you.
Rain ponchos: Whether rain is in the forecast or not, this can be a useful gift to your passengers if an unexpected shower rolls in – and they're substantially cheaper than offering up an umbrella.
Paper towels and tissues: For any size mess, from spilled water to a runny nose.
Mints: Offering a mint or some gum can be a small gesture that makes your customers feel special and appreciated.
Spare change: Always be ready to break that twenty.
Nausea bags: If you drive at night or near popular bars, it's likely you'll be someone's designated driver. You'll be glad to have these on hand… just in case.
Baby wipes: In case your passengers get into any sticky situations.
Hand sanitizer: Another inexpensive way to help ward off germs.
Lotion: To help soothe dry hands during the cold winter season.
For You:
Business cards: If driving isn't your end game, you never know when a business opportunity will present itself.
Car seat gap filler: You probably think you don't need one… until you drop something important down there and spend hours trying to claw it out.
Mileage log: Using your vehicle for business means you might be able to deduct mileage from your taxes. The IRS requires appropriate record keeping, which could include a paper record or one of the many driving apps that track your mileage automatically.
Pen and paper: You'll never know when you need to write something down.
Cell phone mount: A driver essential to stay hands-free and keep GPS (and your ridesharing apps) visible.
Bluetooth ear piece: Just don't take ultra-personal calls with a passenger in the back.
Electronic toll transponder: You and your passengers will be grateful to just cruise right through the toll booths instead of digging for exact change.
Neck and back rest: If you spend a lot of time driving, you may end up with a stiff neck or a sore back. These can keep you comfortable – and potentially prevent more serious injuries.
Gas finder app: Find the cheapest gas in your local area with an app like GasBuddy or Gas Guru. You'd be surprised how a few cents off a gallon can save you a lot by the end of the month.
Snacks: Instead of answering your growling stomach with a bag of gas station chips, opt to pack your own snacks ahead of time. Not only will it save you cash, but you can make healthier options (that won't fill your car with crumbs).
Registration and proof of insurance: Wondering how insurance works if you drive for Uber or Lyft? Keep reading.
INSURANCE FOR UBER AND LYFT DRIVERS
If you drive for a living, it's important to know how your auto insurance can (and can't) kick in if something unexpected happens.
Essentially: As soon as you turn on your app to let riders know you're available to pick them up, you're no longer covered by your personal auto policy. Many ridesharing companies do provide more coverage when you accept a ride and when you have the passenger in your vehicle… but some of it (like collision damage to your own car) can be subject to high deductibles.
So, what's a driver to do?
Here's the good news: Erie Insurance offers specialized coverage to protect ridesharing drivers through a simple add-on to your personal auto insurance policy. It's called the "business use" designation – and, in fact, we were the first insurance company to offer it for ridesharing drivers.
The exact price varies by location and vehicle, but usually it's about 30 percent more than the rate for people who never use their cars for business. Want to learn more? Contact us for more information and a free quote.
by Lauren Sovisky