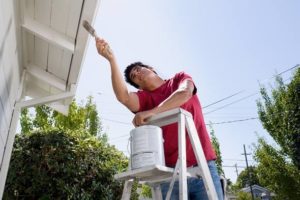 While summer is winding down, it's a perfect time to prep your home for what winter has in store! No one wants to be making repairs in the cold, so why not try to prevent them while it's still warm outside? Here's what we suggest to make the winter more bearable:
1. Check and clear gutters – After summer storms, gutters may be filled with debris and leaves. And before a snowstorm threatens to weigh down and damage the gutters, give them a good clean to prevent and potential damages.
Stock up on firewood – Owners of wood burning fire places will be the first to tell you that hunting for dry wood after snow, sleet, or hail is next to impossible! Keep a stock of firewood in a garage to save yourself the hassle.
Clean air filters – Because colder weather means staying inside more often than not, it's more important than ever to keep the air in your home clean!
Inspect the insulation in the attic – Before the heating gets cranked up, make sure the insulation in the attic is up to date. If the heat in your home rises and escapes because the attic is not properly insulated, you may as well be throwing your money spent on heating out the window!
Replace outside light bulbs – Before it gets too chilly, replace the lights on any porches or areas around the exterior of your home. Less daylight means these lights will be on longer in the winter, and replacing them in sub zero temps is no fun!