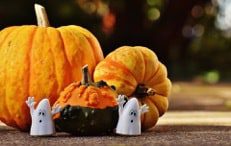 This Halloween, all the neighborhood children will be going door-to-door in search of one thing: candy! While candy is on the brain, trick-or-treating safety may fall by the wayside. Here are a few tips on how you can keep your child, and every child in the neighborhood, safe on Halloween:
Dress in costumes that are reflective or have bright colors
To help kids be seen by cars or bikes, make sure their costumes include some kind of reflective or brightly colored materials. This ensures that, even when the sun goes down, trick-or-treaters stay visible! If your child's costume is not brightly colored or reflective, consider glow sticks or flashlights as handheld alternatives. Parents should also be wary of masks that may hinder your child's ability to see.
Plan a safe route
Before leaving the house, talk to your trick-or-treaters about which route to take. Planning to stay on lit roads, sidewalks and crosswalks will ensure that dark alleys or yards are avoided altogether. If you must walk on the street, be sure to walk facing traffic, not against it! Staying in a group is another important tip for making sure everyone stays safe and accounted for throughout the night.
Be mindful of ALL neighborhood kids
A clear yard or walkway is imperative on Halloween night when children are walking up to your door. Tripping on decorations or extension cords could turn a sweet night sour in a second! Be sure to avoid fire hazards, as well. Pumpkins should be lit with battery operated lights instead of a live flame just in case an accident occurs. Lastly, be considerate of children who cannot have candy by providing alternatives, such as small toys or knick-knacks. This will ensure every child has a great night!