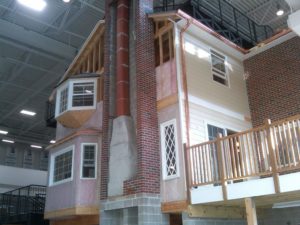 Erie Insurance is making it "cool" to go to class with their new state-of-the-art Technical Learning Center. Our president, Mike McCartin, was able to visit Erie's new technical learning center recently and wanted to share his experience. With over 52,000-square-feet, the space is serving as a giant interactive classroom for employees and agents to get an up-close look at property damage sustained to vehicles, homes and businesses.
"The use of this facility is going to make our agents better educated and prepared for real-world situations. I am excited to get our team up here so that we can provide the best service to our customers," Mike explained.
The Learning Center features 14 vehicle bays, a three-story model home with an attic made from 400 different building materials, vehicle equipment stations with lifts, frame repair stations, wheel alignment machines, paint booths and other training aides.
This Technical Learning Center sets Erie Insurance apart as a company committed to innovation – innovation that, year after year, powers the best claims service in the business," said Chip Dufala, Erie's Executive Vice President of Services.
For more information on Erie's Technical Learning Center, check out this video.