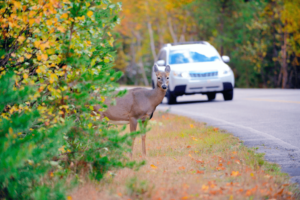 Winter is officially here! While many things about the cold season can affect your driving safety (snow, ice, less daylight, etc.), one of the most overlooked dangers is increased animal activity along the roadways. The colder months signal the beginning of mating season for deer and other wild animals. Here is what to do should an animal come in to contact with your car this winter.
The first thing you should do if you are in an accident involving a large animal (dog, horse, cow, deer or sheep) is to report it to the police immediately. Should you hit someone's pet, it is the law to report the incident to the proper authorities. Failure to report an incident of this nature can result in ticketing or an animal cruelty charge. Hitting a wild animal should be reported to the police so they can ensure the safety of other drivers and remove any obstructions on the road leftover from the accident.
There are preventative measures you can take to help protect yourself and possibly prevent accidents involving animals this winter season:
Make sure to drive with your headlights on at night, dawn and dusk
Use your high beams on dark roads at night
Use caution when driving near wooded areas or fields
Consistently scan the road, as animals are known to jump out from trees on to the road
Follow the speed limit
To learn more about which car insurance policies could protect you and your vehicle, please click here!