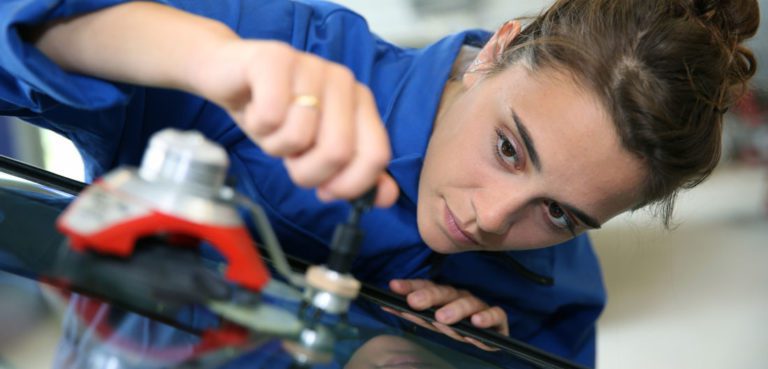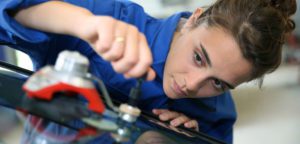 Ever been carefully driving along when—whack!—a rock hits your windshield? Your eyes scan for damage as you wonder whether you need a windshield repair or a complete windshield replacement.
The good news is that a chip or crack doesn't necessarily mean you need a replacement. Certified repair specialists, such as those at Safelite AutoGlass®, can usually repair windshield chips, nicks and cracks up to six inches long. No matter what your situation is, it's best to go to a windshield repair specialist right away. Here are two reasons why.
WHY REPAIR WINDSHIELD CHIPS?
The longer you leave a windshield chip, the more likely it will get worse. Weather changes or simply driving over a pothole, speed bump or uneven terrain puts additional pressure on the edges of a chip, which can lead quickly to a crack. Repairing a chip is also less expensive than windshield replacement. In some cases, repairs can be completed in just 30 minutes.
A damaged windshield may compromise you and your passengers' safety. A chip reduces the strength of a windshield, and damaged glass is much more likely to crack, according to repair experts Safelite AutoGlass®. If you're in a rollover accident, you rely on your windshield to help stop your vehicle's roof from collapsing. Your vehicle glass also helps airbags deploy safely and effectively.
Do-it-yourself windshield repair kits are available, but they may be more trouble than they're worth if you aren't a trained professional. It can be challenging to fill in all the miniscule cracks completely with resin. What's more, if something goes wrong with a self-repair, you may not be able to start over or fix it properly. Ask your agent or take a look at your policy for detailed information on exclusions that can apply to faulty workmanship.
BE WARY OF WINDSHIELD SCAMS
You should be skeptical of strangers who offer to help with a windshield repair when you didn't ask for one. Windshield repair harvesters position themselves at gas stations, convenience stores, car washes and even county fairs, and try to convince drivers to replace perfectly good windshields. They even offer cash rebates or other inducements like free movie tickets or car washes. Do not give your car insurance information to anyone until you're ready to file a claim with your insurer.
THREE QUESTIONS TO ASK A VEHICLE GLASS SHOP
Want to schedule a repair? Here are three questions to ask the windshield repair shop before you proceed with the work:
Are your auto glass installation technicians certified? Certification helps ensure the tech is trained thoroughly on the proper procedures for repairing, removing and installing auto glass.
How soon after my glass is replaced or repaired will I be able to use my vehicle? Usually, a windshield repair takes about 30 minutes or less and the vehicle is safe to drive immediately. With a windshield replacement, it's important to have your technician accurately advise you of the safe drive away time, which can vary greatly depending on weather conditions and the type of installation materials used.
What kind of warranty will be provided on the auto glass materials and the repair work? A warranty could vary depending on the type of repair, but one should be available to you. For example, Safelite® repairs and replacements are covered by a nationwide lifetime warranty for as long as you own or lease your vehicle.
DOES MY AUTO INSURANCE COVER WINDSHIELD CHIPS OR CRACKS?
Joseph W. McCartin Insurance, Inc. has your back when it comes to windshield questions. Talk us about what your specific policy can cover. Generally speaking, comprehensive insurance will cover the cost to repair a cracked or chipped windshield without charging the deductible.
Customers always have a choice when it comes to deciding who they want to repair the damage, and we are available to provide recommendations or answer questions along the way.
By Erie Insurance