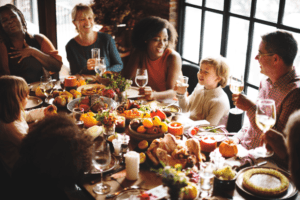 Thanksgiving is one of the busiest travel days of the year. According to AAA, 48.7 million Americans planned on traveling at least 50 miles from their home to celebrate the holiday in 2016. While you're out of town with friends and family, be sure to keep your home safe on Thanksgiving. Here are some tips to protect your home on turkey day!
Don't publicize travel plans.
So many people take to social media to announce their travel plans, even going so far as to post when they reach the airport or what time their flight leaves. This is an open invitation for burglars to visit your home while you're away!
Alert your closer neighbors you will be traveling.
Be sure to let your neighbors know when you will be away so they can keep an eye on your home and alert you of any suspicious activity.
Don't leave trash cans at the curb if you're leaving on trash day.
Burglars are looking for any obvious signs that your house is vacant. When looking to break in to a particular neighborhood, they may even be aware of trash pick-up schedules. If they see that your trash cans are still out days after pick-up, they will be tipped off to your absence.
Hang curtains in your garage so no one can see through.
Someone is much more likely to break in to your home if they are certain there are valuables inside. Putting curtains over your garage windows will keep burglars in the dark about what you own.
Set lights on timers.
This goes a long way in deterring burglars, who often look for crimes of opportunity. Don't allow your house to appear as if no one is home!