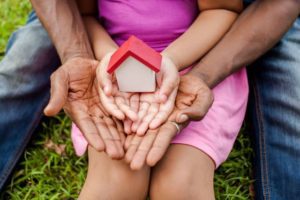 November is Child Safety Protection Month. Because families are more likely to use heating equipment for their homes in the winter months, house fires spike during this season. A disorganized evacuation can result in confusion, injury and property damage. To keep your children safe this November, here are some tips to create a fire escape plan with your family.
Draw a floor plan of your home.
Be sure to label all the rooms, especially the bedrooms. Make sure everyone knows where the doorways, windows and hallways are located.
Check your windows.
Work with your children to choose the best window in each room to use as a backup escape route, just in case the door and hallways are blocked by heat, smoke and fire. Make sure that window is easily opened.
Decide on a meeting place.
A meeting place is a safe spot outside— usually in front of your home— where your family knows to meet if there is a fire. This could be a landmark, such as a mailbox or a streetlight.
Draw your route.
With a black marker, draw the exit you normally use out of each room. Don't stop drawing your route until you are safely outside of the house. Make note of what you would do along the way if your exit becomes blocked by heat or fire. Now, with a red marker, draw your emergency escape route. This secondary exit will, in most cases, be a window.
Practice makes perfect!
Have a fire drill with your family. For the first round, have everyone pretend to check their door for smoke and heat and then crawl out of the house through the exits you would normally use. For the second round, test your secondary exit. You don't have to escape from the house, but make sure everyone knows what to do!