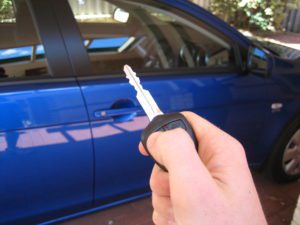 October is National Crime Prevention Month, and we are sharing tips to help protect your vehicle and keep your belongings safe.
According to the National Highway Traffic Safety Administration (NHTSA), a motor vehicle is stolen every 44 seconds in the U.S. However, between 40 and 50 percent of vehicle theft is the result of driver error.
Here are a few vehicle theft prevention tips to keep in mind:
Park in well-lit areas, and if it's an attended parking lot, leave only the ignition/door key with the attendant.
Lock the vehicle, and always take the keys with you. Never hide a second set of keys in your vehicle.
Completely close windows when parking, and keep valuables out of plain sight.
Park with the wheels turned toward the curb, so that it is difficult to tow the vehicle away.
If the vehicle has rear-wheel drive, backing it into your driveway will also make it more difficult to tow.
Install an antitheft device or system in the vehicle.
Leave business cards, address labels and other identification inside your vehicle. In the event it's stolen this will help law enforcement.