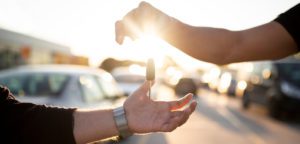 There's nothing better than that new car feeling. But before you drive your new ride off the lot, you often have to decide what to do with the car in your driveway.
When it comes to getting rid of a used car, you have two options: selling it yourself or trading it in. (If money isn't an issue, cars also make great charitable donations.)
There are pros and cons to each approach. A private party sale can net you a higher profit, but it also takes a lot more work. Meanwhile, trading in your car to the dealer is fast and easy – but it will probably net you less cash in the process.
Looking to get the best bang for your buck? Here are a few ways to maximize your car's trade-in value.
HOW TO GET THE BEST TRADE-IN VALUE FOR YOUR CAR
Know the value of your car. When it comes to car buying, knowledge is power. So before you head to the dealership, research the value of your current car using a tool like Kelley Blue Book. Knowing your trade-in value will let you know if the dealer's offer is fair.
Shop around. Every dealership prices trade-ins differently. Experts recommend getting at least three estimates from competing dealers. This can help ensure you get top dollar for your old car.
Debts make a difference. You can still trade in a car you owe money on, but it's important to know that debt still comes out of your pocket. This means you'll ultimately get less cash from your trade. Owe more than your car's worth? Expect that negative equity to get rolled into your next car loan.
Prepare for the sale. A deep clean and a record of repairs can make your car more marketable, and possibly fetch you a higher trade-in price. So keep that extra paperwork for some added bargaining power.
You'll need to negotiate. Just because a dealer makes a trade-in offer doesn't mean you have to accept it. Following the above tips, like getting multiple offers and knowing your car's trade-in value, can be powerful negotiating tools.
Following these tips can help increase the value of your trade-in, getting you into a new car for less cash. But once you get the keys to your dream car, you'll need to make sure it's protected.
by Justin Metz