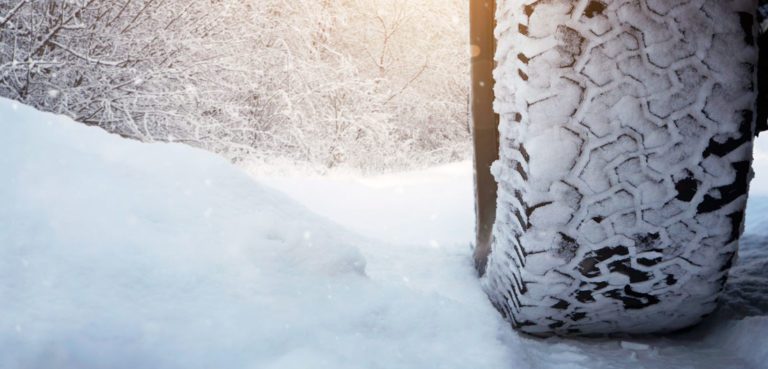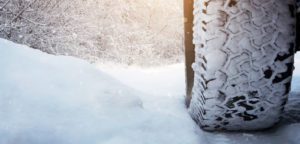 Before the first snow falls, you'll want to freshen up your car emergency kit, check the antifreeze and throw in that bag of kitty litter in case you need a little extra traction.
And speaking of traction: How are your tires?
If you think your tires aren't up to the job of winter driving, it's time to swap them for a set of snow tires. Here's what you need to know.
HOW DO SNOW TIRES WORK?
Winter brings some of the most difficult driving conditions including slush, black ice and snow. Unlike regular tires, snow tires were created to endure these harsh conditions. Snow tires have a deep tread and special pattern that provides extra grip and traction. The design packs the snow while they're moving to avoid slipping.
While they are great at withstanding snow, they are even better with weathering the cold. A snow tire's rubber formula allows them to remain flexible, even at the lowest of temperatures, which helps ensure optimal performance in snow and ice. This is especially helpful when you're trying to slow down or stop on an icy road.
Tread depth, pattern and tire compound are three things you'll want to consider if your car needs snow tires.
DOES MY CAR NEED SNOW TIRES?
If you live in an area where snow and ice are a frequent reality through the winter, snow tires can make driving easier and a lot safer. That's especially true if you have a steep driveway or often drive on unplowed roads.
Parents of teen drivers can also find peace of mind knowing that the family car is equipped with reliable winter tires.
If you live in an area where it doesn't snow very much, you might be better off without snow tires. That's because snow tires are made from softer compounds than regular tires – so if you're driving on regular pavement that isn't covered with snow, they are likely to wear out faster and be noisier on the road.
One more factor to consider is your car's drive. Depending on your vehicle, snow tires might be more beneficial to its performance in snow.
• FWD (Front-Wheel Drive): Heavy snowfall and icy roads sometimes make it harder for a FWD vehicle to stop as quickly. Adding winter tires will help improve your vehicle's braking system in winter conditions. These cars handle better on slippery conditions than their rear-wheel drive counterparts, and usually provide better tire traction because the weight of the engine is over the drive wheels.
• AWD (All-Wheel Drive): These vehicles have a definite advantage in winter conditions. Experts recommend them for drivers living in areas with heavy snowfall because they provide more control on slick surfaces. Winter tires can help your AWD vehicle's ability to stop on icy roads.
• 4WD (Four-Wheel Drive): This option is typically found in trucks and SUVs and is reliable for driving in deep snow or areas that don't get plowed regularly. As with AWD vehicles, snow tires can come in handy to provide more traction on slick, icy roads.
• RWD (Rear-Wheel Drive): While in the minority, this drive usually doesn't do well in slippery conditions. Most of the weight of the car is in the front, which means less weight is on the drive wheels. The drive wheels won't have enough weight on them to maintain their traction, which could result in sliding sideways on slippery roads. Cars with this drive could benefit from winter tires.
Regardless of what's in your garage, remember that while a car's drive supplies torque and power – only tires provide traction. That's what makes all the difference as soon as you hit the brakes.
DO I NEED TO CHANGE ALL FOUR OF MY TIRES?
You may have heard of some drivers only buying two tires, such as two front tires for a front-wheel drive car. When driving in the snow, you want all four of your tires gripping the road… not just two. When it comes time to switch over to your snow tires, changing all four tires will give you the best control and stability when stopping or turning on a snowy or icy road.
ARE THERE ANY ALTERNATIVES TO SNOW TIRES?
If snow tires aren't what you're looking for, here are a few different traction devices. Before you invest in any one, it's important to review the laws in your local area. Some alternatives – like chains – may be prohibited.
• All-Season Tires: Changing tires from season to season can be a nuisance. All-season tires provide reliable performance in most weather conditions. However, they don't perform quite as well as winter tires when weather becomes more severe. In Consumer Reports' tests, snow tires outperform all-season tires in heavy snow and ice.
• Studded Tires: Studded tires are fitted with lightweight metal studs and are more adept at gaining traction on ice. When the road is clear of snow and ice, however, the studs can often damage the road. They can also be very loud and are outlawed in many states.
• Tire Chains or Cables: Metal chains wrapped across tires can provide additional traction, but legality varies widely. Many states have outlawed chains because of the damage they do to roads, while other regions experiencing treacherous snowfall and ice make them mandatory. Either way, tire chains are not recommended for high-speed travel. If you're considering chains, first make sure they are legal in your area. Then make sure you understand their recommended speed limit and whether that limit will work with your driving style.
• Tire Socks: As an alternative to chains, reusable snow socks pull over the wheel like a pillow cover to form a tight fit once they are strapped down. The socks get their grip from specially designed textiles and from the friction the spinning wheel causes. Snow socks exist for all tire sizes, making them a versatile option.
WHEN SHOULD I GET SNOW TIRES?
Fall is a great time to begin shopping for winter tires. You'll want them on your vehicle before the snow starts to fly. Consider installing them when the temperature drops to a steady 45 degrees Fahrenheit or below.
Make sure your vehicle is ready for winter – and that includes a checkup of your auto insurance policy. We can answer your questions, help you with a quote and help you get the right coverage for your needs and budget.
Talk to us to get the conversation started.
~ Written by: Erie Insurance