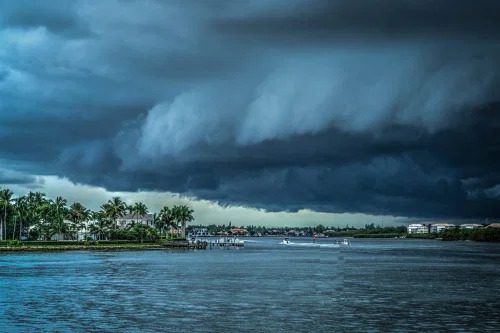 You need a disaster plan for your business, and no disaster plan is complete without a review of your insurance coverage.
Before the Hurricane: Safeguard the Future of Your Business
Are you a business owner? Here are two alarming statistics about natural disasters for you: As many as 4 of 10 businesses that experience a natural disaster never recover. Worse, at least 1 in 4 businesses that are forced to close in the wake of a disaster never reopens. And if your business is small, or if all of your operations are in one location, the outlook worsens.
If your business is located in a hurricane zone, you need to have a disaster plan in place.
Luckily, you have an abundance of resources. You can find step-by-step help for disaster planning, response and recovery in FEMA's Emergency Management Guide for Business and Industry. Other sources include ready.gov and the Insurance Institute for Business and Home Safety (IBHS).
Insurance Considerations
Once the hurricane has passed, you may need quick access to funds to:
1.Repair damage to your business property.
2.Mitigate lost income.
Does your business have insurance to provide the funds necessary to survive a disruption in your income? What should you consider when reviewing your business's insurance plan?
Direct Hurricane Damage
Review your property insurance for common threats. Be sure your policy includes coverage for the threats commonly associated with hurricanes, such as wind damage and falling trees. Note that many standard property insurance policies do not include coverage for common threats such as damage caused by flooding, power outages, or the cost for repairs specifically associated with building code compliance. (For example, if the electrical wiring in your building is not up to code, any additional cost incurred during storm repair to update the electrical system to meet code would not be covered).
Don't assume coverage is perfect. Even if you see that a threat is covered by your policy, note that the coverage for some items may be limited. For example, many policies will cover damage caused to your property by a fallen tree, but the cost of removing the fallen tree may be limited or not covered at all.
Your policy may also may include coverage limitations for outdoor property such as fences and signs as well as personal property (like tools, equipment or stock) that is left outdoors. To help identify coverage and limitations, consider scheduling a policy review with McCartin Insurance.
Review your deductible. Some policies include a separate deductible for claims caused by a hurricane or named storm. Such a deductible is typically higher than the policy's deductible for other types of claims like fire or theft.
A hurricane deductible may be calculated based on a percentage of the value of property at the time of the damage. For example, say your building is valued at $100,000. Your policy includes a standard deductible of $1,000 and a separate "hurricane deductible" of 4%. If your building is partially damaged by a fire, you are responsible for the first $1,000 before the insurance company will kick in any funds. However, if your building is partially damaged by a hurricane, you are responsible for the first $4,000.
Note that some states have laws regarding the application of such deductibles. To see if your state has special rules regarding deductibles, contact us.
Floods, a Consequence of Hurricanes
Floods are the most common and costly natural disaster in the U.S., according to FEMA. The definition of "flood" encompasses many sources of rising or flowing water and includes torrential rain and tidal surge. It's no surprise that flooding usually accompanies a hurricane, and the damage it causes can be costlier and more widespread than that caused by a hurricane's winds.
It's essential for you as a property owner to know that most property insurance policies do not cover flood damage. Flood insurance is typically available through the National Flood Insurance Program (NFIP) and may be available from other insurance companies as well. McCartin Insurance is the best source to assist you in putting together a flood insurance plan for your business.
Lost Income
It's easy to see how significant property damage from a storm could harm your business. But here's something you may not know: The resulting loss of continued income is the leading reason so many businesses are never able to reopen after the storm has passed.
The good news is that there's a type of insurance designed to help businesses like yours maintain an income stream after the storm. It's called business interruption insurance, and it provides income for your business to fulfill its financial obligations (like bills and payroll) as well as to mitigate financial losses due to fewer customers.
Unfortunately, all too few business owners know about business interruption insurance, or they make the costly decision not to purchase it.
Business interruption insurance can also mitigate supply chain disruption caused by a hurricane. For example, say your restaurant survived the storm with little or no damage, but your primary food supplier's warehouse was destroyed. Even though your restaurant was not directly damaged, the financial consequence of the hurricane to your business is still significant. Ask us if it may be possible to amend your business interruption insurance policy to include coverage for your business should another business on which yours depends suffers crippling damage.
Include Insurance in Your Disaster Plan
You need a disaster plan for your business, and no disaster plan is complete without a review of your insurance coverage. For assistance, call McCartin Insurance today.